About Deep Down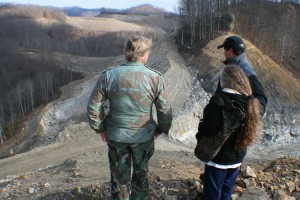 Fine Line Films completed the feature documentary Deep Down: A story from the heart of coal country in 2010. The film aired nationally on the award-winning public television series Independent Lens, participated in the international American Documentary Showcase, and garnered an Emmy nomination in 2011.
Synopsis: Beverly May and Terry Ratliff grew up like kin on opposite sides of a mountain ridge in eastern Kentucky.  Now in their fifties, the two find themselves in the midst of a debate dividing their community and the world: who controls, consumes, and benefits from our planet's shrinking supply of natural resources?
A complete web site for the film with curriculum, a short video series, resources and discussion guides, a press kit, and more can be found at http://deepdownfilm.org.
Get Deep Down for your institution
We proudly distribute Deep Down through New Day Films to universities, colleges, libraries, institutions, and schools (DVD and streaming versions are available). This version can be used for campus, library, and classroom screenings as well as kept in the institution's library or collections for years to come. In addition to the feature-length film, this disk also contains six educational video modules (extras) that go along with our teacher's guide.
Deep Down Trailers
[hdwplayer id=1]